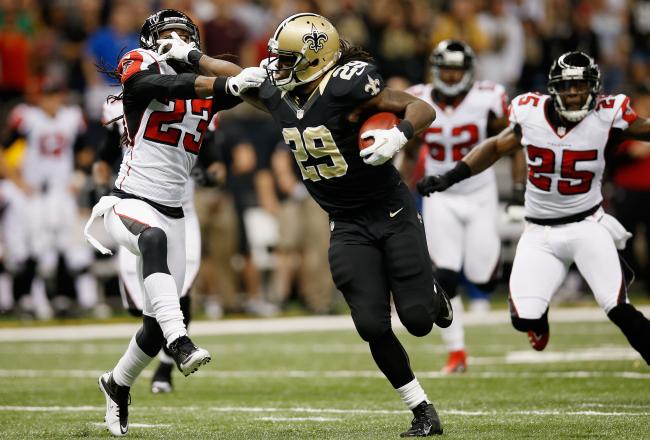 Talking heads and pundits in sports love to say that the 'National Football League is a passing league, driven by quarterbacks'. While this is accurate on most levels, teams with successful running games are more likely to win. Just this season, the Texans are one of the most run heavy offenses in the league and are atop the AFC. San Francisco, the best team in the NFC (despite what the Falcons would have you believe), are there based on their power rushing tandem of Frank Gore and Kendall Hunter, pre-injury. Part of the reason that no one takes Atlanta seriously as a super bowl contender is because they are depending on Micheal Turner's corpse to run the ball for them. While Green Bay is proving that having a single above-replacement level back isn't needed to win, the team would undoubtedly be better with a solid ground game. This begs the question: why has no one traded for Chris Ivory? The Saints running back has impressed scouts and statheads every time he has entered the game and gotten meaningful carries. Are you telling me the Packers wouldn't love to have Chris Ivory instead of Alex Green or Zombie Ryan Grant? That Ivory couldn't be 25 times better than Micheal Turner? Regardless of the reasons why, Chris Ivory will be restricted free agent after the season and the Saints most likely won't be matching offers; with this in mind, lets examine Chris Ivory on a deeper level.
Undrafted or late round running backs have a history of making a splash in the NFL. Terrel Davis was a 6th round selection and went on to have some of the most spectacular seasons at the position. Current NFL touchdown leader and the number 1 back in the number 1 ground game, Arian Foster, was undrafted out of Tennessee. Priest Holmes was also undrafted, before becoming the only watchable Kansas City Chief of the last 15 years. The Saints hold one of these secret weapons deep on their depth chart in Chris Ivory. His rookie year, thanks to injuries, he was given a chance to make a real impact on the game with 137 carries for 716 yards and 5 touchdowns. He has a career 5.1 yards per carry average which would sit 5th in league, tied with Marshawn Lynch if applied to this season. He also did this to the Falcons this year. Those in the scouting community have likened him to a faster Marshawn Lynch, with his violent running style. Part of the knock on Ivory, and possibly why no team traded for him before the deadline, is his knack for injuries. That violent running style has lead to one trip to the IR and a hamstring injury that he is currently dealing with. Without health and durability, it is impossible to be a good NFL running back. His lack of durability is a possible explanation for his lack of success. Regardless, he is still an intriguing prospect.
Coming out of Division 2 Tiffin, Ivory ran a 4.48 forty time, which shouldn't be impressive to you, until you realize that he is 220 pounds. This speed manifests itself in his longer runs, when he is able to get a head of steam and make the correct, patient cuts that are needed to be a good NFL running back. His physical tools, combined with his natural instinct for running the football make him a prime free agent target this off-season. There are several teams that should give him a look.
The first is the Atlanta Falcons. Micheal Turner is just done. That's the way it is. He has no power and no burst left. Jacquizz Rodgers is going to be a change of pace guy, but probably never get a crack at starting in the league. If the team wants to utilize what will probably be the last year of Tony Gonzalez (He said he was 95% but he wants a ring, and the Falcons aren't getting it this year) and Roddy White's last full strength season, they should go out this off season and sign Ivory. He will provide that offense a dimension that they simply don't have right now. Once they get the lead, they can never be secure because they either have to feed the ineffective Turner or keep throwing the ball, which introduces too much variance into the winning formula.
The second is the Pittsburgh Steelers. The popular sentiment amongst the NFL community is that they are probably going to draft a running back in the 2nd of 3rd or that they would be okay moving forward with Redman and Dwyer. I don't buy it. This is a team that has always prided themselves on running the ball and built themselves around that identity. Ivory, with his smash mouthed brand of running, would fit in perfectly with their scheme. The likelihood of this happening increases if Todd Haley is let go after the year, but even if he stays, this is a signing that makes sense.
However, the destination that he should arrive if all parties have their heads screwed on straight, is the Green Bay Packers. Yes, Aaron Rodgers is the best quarterback in the NFL, but McCarthy and Co. are just asking him to do too much. The defense in Green Bay is good, not great, and as a result, Rodgers has to keep throwing when the team gets up. Having a one dimensional offense just is not a recipe for success. The year Green Bay won the Superbowl, James Starks led them there with the most impressive 3 game stretch of his career. Starks is now in the pile of hot garbage with the IR'ed Cedric Benson, the ineffective Alex Green and the intriguing, but under utilized DuJuan Harris. The team is begging for a solution and Ivory offers it. Imagine a 1,300 yard rusher in the same offense as Aaron Rodgers, Jordy Nelson, Randall Cobb, James Jones and Greg Jennings. With a little ground and pound to go with their aerial attack, the Packers could once again become the formidable opponent of 2010 and 2011.
Other teams that make sense include the New York Jets, but no one in the deluded circus of an organization is intelligent enough to offer Ivory a deal. The Arizona Cardinals could be a possible destination with Ryan Williams coming off his 2nd straight trip to the IR and Beanie Wells being Beanie Wells. I could even see Denver taking a shot on him if they decide to let Willis McGahee go and realize that Knowshon Moreno is Knowshon Moreno.
In general, Ivory is the type of difference maker that goes unnoticed by most until it is too late. If you play fantasy football in a dynasty of keeper format, make sure that Ivory is on your roster. Give up a guy like Beanie Wells or Moreno to get him. Give up a 2nd round rookie pick. Get him on your team. It will pay off in spades later on. If you are just an NFL fan, keep an eye on where Ivory signs in the off-season. If he stays with the Saints, its clearly not as large of a deal; but if another team signs, watch as he ascends that teams depth chart. I would not be surprised if at this point next year, Chris Ivory is leading the NFL in rushing and ESPN is running pieces about how no one could have possibly seen this coming.