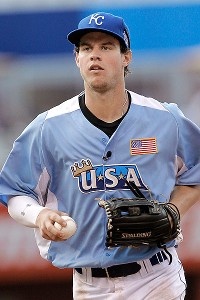 Over the last few days, during Winter Meetings, there have been grumblings that Dayton Moore and co. were kicking tires on dealing Wil Myers or possibly other prospects for a top level pitcher. For a team that was trotting the likes of Bruce Chen out of every fifth day, it was a move that on the surface seems reasonable. So when around 10:15 CST it was reported that James Shields and Wade Davis were dealt to the Kansas City Royals for Wil Myers, Jake Odorizzi, Mike Montgomery and third basemen Patrick Leonard, no one could be that surprised. This doesn't mean that Dayton Moore made the right move. If you were to tell me that the Royals were going to deal Myers for a #1 starter, I would say that both sides were getting a good deal. Problem is… James Shields is not a #1 starter.
As noted Royals fan Rany Jayzerli noted on twitter, if the trade works out well for the Royals, it will be because Wade Davis turns out being solid, not because of Shields. There is enough data on Shields. We know who he is. He can eat a solid amount of innings, even getting up to 246 in 2011. He posted a 5.2 WAR season in 2oo7 and a 4.7 WAR in 2011. However, the seasons in between that were 3.6, 1.6, -1.8 and 2.2 this last year. Shields has been good, maybe even very good, but certainly not great. If James Shields is your #1 starter, than the ceiling of your rotation will be limited. Granted, having Shields at your 1 instead of Bruce Chen is like going from a strip club in New Jersey to a strip club in Vegas. Yeah, it's a whole hell of a lot better to look at, but you still aren't getting 100% of what you actually want.
For the Royals to round to home plate like their fans have been begging them to for the last 26 years, Myers should have either stayed put and been extended or they should have traded him for a true number 1 pitcher. While the definition of such a phrase will always be vague, the easiest way to define it is at any given time, a top 15 pitcher in Major League Baseball. Shields teammate, David Price, was 2nd in Pitcher-WAR in 2012. Trading Myers for him would have been acceptable, maybe even positive for the organization. There were also rumors that the Royals were considering dealing several other prospects for R.A Dickey from the Mets. This would have been a much smarter deal for the organization.While Dickey is 38, he is also a knuckle-baller, allowing him able to play for a longer time. It clearly isn't that Shields is a bad pitcher. He probably will be around a 4-win pitcher for the Royals and be very good; but he won't be great. Wade Davis is not a terrible pitcher and certainly an upgrade to whatever trash the Royals would trot out every five days in that slot. He had a sub 1.1 WHIP last year and features several intriguing statistics. If Davis works out and posts several +3 win seasons, the Royals come close to at least tying this trade. The trade isn't about what the Royals got though. They are a mediocre at best team in 2013; the Rays however, with a core of Myers, Longoria, Price, Desmond Jennings and Ben Zobrist, they are set to compete with the Yankees, Red Sox and Blue Jays over the next several years (Sorry Orioles fans, but you didn't just have one of those seasons, you had the season).
This trade gives up on Myers for a pitcher who isn't worth his ceiling. Myers lead the minor leagues in homeruns in 2012. He flashed serious power, is a capable glove in the outfield and is generally regarded incredibly highly by the scouting community. He certainly isn't a Mike Trout prospect but projects as a perennial All-Star candidate. Multiple scouting outlets have praised his plate discipline, which has been evidenced by his .374 OBP in 2012. In 2011, Baseball America had them as their number 10 overall prospect. Adding him to an offense of Eric Hosmer, Salvador Perez, Alex Gordon, Mike Moustakas, Alcides Escobar, Billy Butler and a dead maple tree at 2nd base would give the Royals a shot at being a historic offense. Just by replacing the beyond-horrible Jeff Francoueur, Myers immediately improves the team. This is the sort of trade an over-matched and inept General Manager makes.
The problem is that Dayton Moore is finally feeling the flames on his behind. Moore has realized that the fans are sick of being a laughingstock and want wins now; however, in perfectly predictable Dayton Moore fashion, he screwed it up. Myers is the jewel of the farm system. Odorizzi is capable pitcher who could have competed for a spot out of camp. Now, his spot was replaced by Wade Davis. Montgomery was a former minor league all star. I'm not as upset about losing him as some. Leonard is mere organizational filler. As a Royals fan, I just feel that with Dayton Moore dealing with Andrew Friddman, we lose no matter what. Friedman has made hundreds of impressive personnel moves and extensions. This is the man who has Evan Longoria and Ben Zobrist signed below market deals. He knows what he is doing. Dayton Moore just tendered Luke Hochevar another deal. Let the wisdom exemplified by that move let you decide which man made the correct choice in this trade.