Terrelle Pryor made his first NFL start this last Sunday and what happened in that game could be of great importance. Anytime a young quarterback gets a chance to start his first game, it is a noteworthy event. When it was a quarterback who had great college success, it becomes more noteworthy. When it is a mobile or running quarterback in the same arena with the prodigious physical talent of Cam Newton, it is a headline. For regular NFL fans, Terrelle Pryor's first start represents a changing of the guard in the Oakland organization and a glimpse of his promise in the AFC West for years to come. For fantasy football fans who salivate of 40 times and potential, every single snap of Pryor's first start is important. Even though it is technically fantasy football off-season, researching high upside players like Terrelle Pryor can make or break your championship chances in your dynasty fantasy football leagues. So whether you are an NFL prospect geek, regular fan, or fantasy football addict, Pryor's first start is generally important to your NFL experience. By going through each quarter and drive can, there are a few conclusions that we can draw.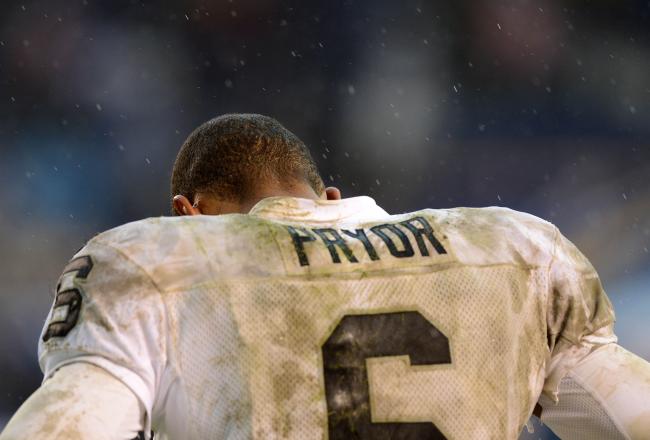 First Quarter:
The game started about as most expected. The Chargers defense clearly did not want to allow Pryor to shake and bake them to death and the very first play where Pryor had to make a decision, he made the wrong one on a zone option. McFadden and Pryor could be a terrorizing combo, but it never really materialized. His first throw, on a 2nd down, to Marcel Reece was a very nice read but a bad drop. Pryor did not shy away from forcing the ball in between several defenders who were on multiple levels. After a 3 and out, Pryor came back and threw a beautiful deep ball with an impressive amount of touch to Darius Heyward-Bey who beat Quentin Jammer so bad that Jammer was forced to interfere. If that hadn't of happened, it would have been a huge gain. After a McFadden carry, Pryor had a beautiful roll out where he threw to a spot across his body and Rod Streater picked it out of the air. Pryor's ability to throw across his body while moving was very impressive all game. On a bubble screen on the same drive, Pryor showed solid awareness by getting the throw above an oncoming rusher while still throwing a catch-able ball.
Second Quarter:
Already 3-3 for 31 yards on the ride as the team switched sides, this drive was Pryor's most impressive ball. On a first down, Oakland ran play action but Pryor was too hesitant. This happened several times throughout the game where he had protection but didn't find anything pleasing down field so he either checked down or ran for a small gain. The offense stalled in the red zone but on 3rd and 2, Pryor kept the play alive and smartly ran to his left for a first down. While many running quarterbacks in their first NFL starts would be tempted to take off as soon as a hole opens up, Pryor didn't have this fault too terribly. Most of his runs were net beneficial to the offense. After a penalty, he threw a not-so-smart throw to Streater in the end zone. Those sort of throws are just a waste of a down and something that he will have to learn to avoid if he is going to become an above average NFL starter. On 2nd and 14, he show cased his running ability again and gained 9 yards after being corned and almost wrapped up in the back field. His 9 yard touchdown throw to Heyward-Bey on the next play was very interesting. He showed that he wasn't afraid to put the ball in an area where the receiver had to make a play by throwing a back shoulder type throw with Bey matched up one on one. Bey made the solid catch and secured 6 points. It was a NFL level throw, to be certain.
The Raiders came back on the field with 2:42 left. On first and 10, Pryor lofted a ball to Denarius Moore that was a solid 5 yards out-of-bounds and far too high for anyone to catch; it was his first really bad pass of the game. On 3rd down, he targeted Moore again who had a step on his corner and Pryor simply overthrew the ball. Not an impressive series. The offense punted and then came back on with 47 seconds. Terrelle didn't show great understanding of clock management and on 3rd and 1 got the first but slipped before he got the first down, leaving the team with 7 points at half.
Third Quarter:
The Raiders got the ball to start the half and after an unproductive McFadden run, they tried a play action from deep in their own territory. Pryor's sheer size and strength helped him avoid a sack as he grounded a pass to Brandon Myers with Melvin Ingram draped on his waist. On 3rd and 14, Pryor moved to his left and fired a strike to Rod Streater for the first down who promptly fumbled it. This was the sort of play that left me impressed. The great thing about being a mobile quarterback is moving the defense but also, being able to see coverages better and from different angles. Pryor's confidence in his arm and legs shown through on this play. He got hit late which negated the fumble and led to Dennis Allen calling another play action. This time, Pryor threw a bad lofter off of his back foot to Reece which was not catch-able. On 2nd and 10, Pryor audibled for the first time to a quick slant to Marcel Reece on the far left sideline. Pryor made a solid throw behind a defender but Reece couldn't hang on. On 3rd and 10, Pryor made probably his best throw off the game. He fit it directly over the head of a linebacker and just below the oncoming safety to drop into Brandon Myers' hands in the seam. The touch pass into the seam is an important throw to make in the NFL because it is going to be available to the athletic and tall tight ends flooding the league. It is essentially a throw that will be there a large percentage of time, but is not an easy one to make or to read.
Pryor took off on the next play and made the right choice. The smaller Oakland wide outs were having trouble winning one on one battles and Myers had fallen down. The next play was his only interception of the game and it was truly, a pretty bad pass. It was a situation where a young quarterback trusted his arm too much. There was a semi-troubling pattern in the game of Pryor putting too much touch on a pass when a ball needed to be rifled in. As Pryor targeted Heyward-Bey in the end zone, he failed to notice Quentin Jammer playing the route underneath and he put the ball in the place where Jammer had the much easier play than the wide out.
The next drive, the offense came out and promptly left after 3 plays. On 3rd and 8, Pryor targeted Rod Streater who got lit up by the oncoming safety. Pryor should have timed the pass better or looked at Denarius Moore on the opposite sideline; Streater wasn't really open on the play.
On the 3rd drive off the quarter for the Raiders, Pryor lead off with perhaps his worst throw; not based on outcome, but on what he gave up. This is the sort of throw that he needs to be able to make to lead both his team and your fantasy football squad. It was a play action roll out and Denarius Moore was wide open and past the safety. Pryor saw this promptly placed the ball behind Moore at around knee level. Whereas most of his throws to Streater were on target, a majority of Denarius Moore's targets where uncatchable. There was absolutely no chemistry between the 2 until the 4th quarter. Unfortunately, Pryor made another bad throw on 3rd and 4. Heyward-Bey had beaten his man and was open to the outside. Instead, Pryor placed the ball to the inside, much closer to the safety than was needed and much lower than it should have been. Bey dropped the ball, but on 4th down a roughing the punter kept the drive alive.
The next play featured a very, very rookie move where Pryor ran 20 yards back before very athletically getting rid of the ball. Had Pryor been sacked it would have been a very costly move for field position; the sort of play that young guys make that they really shouldn't. His improvisational skills almost paid off, as the ball he threw was almost caught by Denarius Moore.
Fourth Quarter:

On the first drive of the fourth quarter, Pryor made another bad throw with too much touch to an open Heyward-Bey on the sideline. On 2nd and 12, DMC and Pryor both messed up on an odd zone read play where Pryor's athleticism got the team 5 yards. These are the sorts of plays that will need to work better for the offense as a whole to hum underneath Pryor. Instead of the meager 5 yards, if the blocking would have been correct, it could have been for 15.
3rd and 7 showed off more chemistry between Streater and Pryor as it was a beautiful timing route where Pryor placed the ball to the inside and Streater just snagged it right out the air. He immediately followed up with another impressive throwing rolling to his right where he hooked up for a big gain with Streater again. A designed run got blown up but a penalty call makes it 3rd and 7. On 3rd and 7, Pryor made a beautiful bucket accuracy throw that rainbowed perfectly over a cornerback and Rod Streater's shoulders, right into his hands. A truly tremendous NFL throw. First and goal was a naked bootleg to the left side where Pryor turned on the jets and easily scored. Pryor is very Cam Newton-esque in his ability to become a real redzone weapon. A tall, fast guy; he will have a huge scoring impact in the redzone if he becomes the full-time starter.
The next series was not his best as he checked down to Myers, fumbled out of bounds, missed on a throw to Denarius Moore and threw way behind Streater on 3rd and 15. Thus far, his performance has not been very consistent and he has been hot and cold with his throws. A special teams play however, gave them a short field for the next drive.
The Raiders got down to the 1, but a false start by David Ausberry put them at the 5. As previously mentioned, where Pryor shined was in the redzone. On the scoring play, Pryor rolled out the pocket to his right as the play broke down, kept his eyes up the field and not on the oncoming rushers, saw Denarius Moore through a silver of daylight and lofted a beautiful pass right to a wide open Moore. Six points. In between the twenties, Pryor played okay, but every trip to the end zone ended wonderfully.
All in all, it was not a great performance by Pryor, but it wasn't a terrible one either. Throughout the game, he continually showed that he wasn't afraid of the moment and that the game wasn't too fast for him. 13 of 28 isn't a great first outing, but his receivers betrayed him and he made several nice passes. 9 for 49 on the ground with 2 passing touchdowns and one on the ground is certainly nothing to sneeze at if you are a fantasy football player. The Raiders really might have a quarterback who can advance the offense on the ground and as he develops chemistry with his receivers as well as learns how much touch to put on a pass, develop into a real NFL starter. As a dynasty fantasy football prospect, I would say Pryor delivered above expectation and is worth a speculative add in the off-season.